Over the last year, we have found new ways to create engaging virtual experiences at work. We've transformed spaces in our homes to offices, developed new skillsets for remote collaboration, and in some cases, adopted new technology to get work done. I often hear from our customers about the burden of using different tools to accomplish similar tasks at work. This is one of the reasons I'm excited to announce new innovations in Microsoft Teams that give you more ways to use the tool you rely on every day for internal collaboration and meetings, now for webinars and external events.
Beginning this week, Webinars and PowerPoint Live are generally available in Microsoft Teams. Additionally, Presenter mode will begin to roll out later in May. With these capabilities, you have new ways to deliver polished, professional presentations in meetings of all sizes, from small internal meetings to large customer-facing webinars and events—all from a single application.
What's even better? You don't need to purchase a new license or product. These new capabilities are included in many of the Office and Microsoft 365 plans your organization uses today1. There are no hidden costs or charges for overage fees with plans that include these capabilities—period.
Full-featured webinars for rich customer engagements 
Now you can organize and hold interactive webinars for up to 1,000 attendees with Teams. Use end-to-end webinar support that's as simple as setting up a Teams meeting—including custom registration pages and attendee emails, rich presentation options, host controls, such as the ability to disable attendee chat and video, and post-event reporting to understand participation and to follow up with attendees.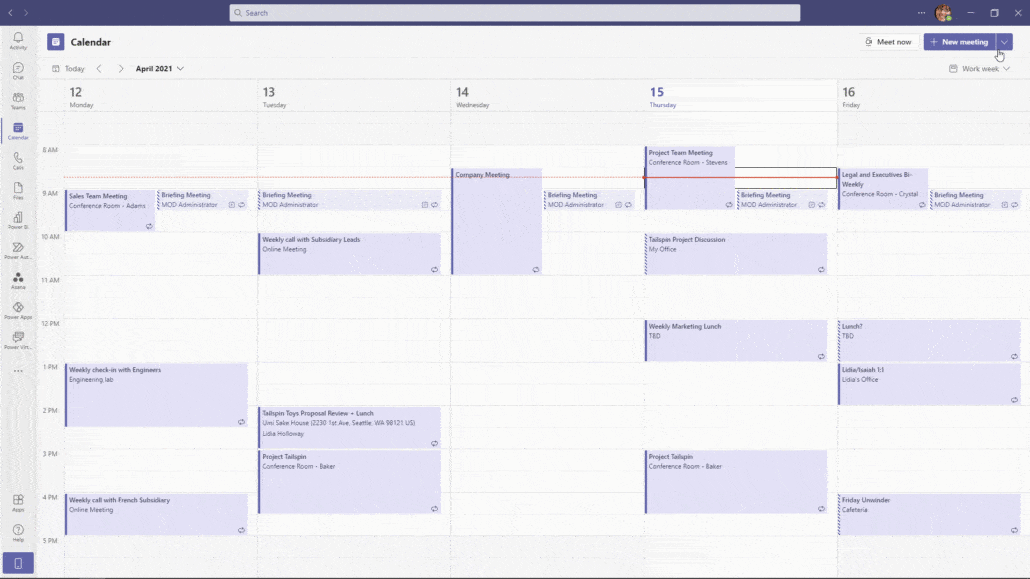 If you need to reach more than 1,000 attendees, Teams meetings can seamlessly scale to accommodate a 10,000-person view-only broadcast experience. During this time of increased remote work, we've expanded the attendee limit to 20,000 through the end of this year.
Everyone can present like a pro 
With PowerPoint Live and Presenter mode in Microsoft Teams, anyone can deliver more impactful and engaging presentations to show up in a more polished and professional way with your audience.
By bringing together Microsoft's rich history with presenter experiences in PowerPoint and the collaboration power of Teams, presenters can feel more confident and capable during online presentations. You can view upcoming slides, notes, meeting chat, and the audience in a single view while presenting.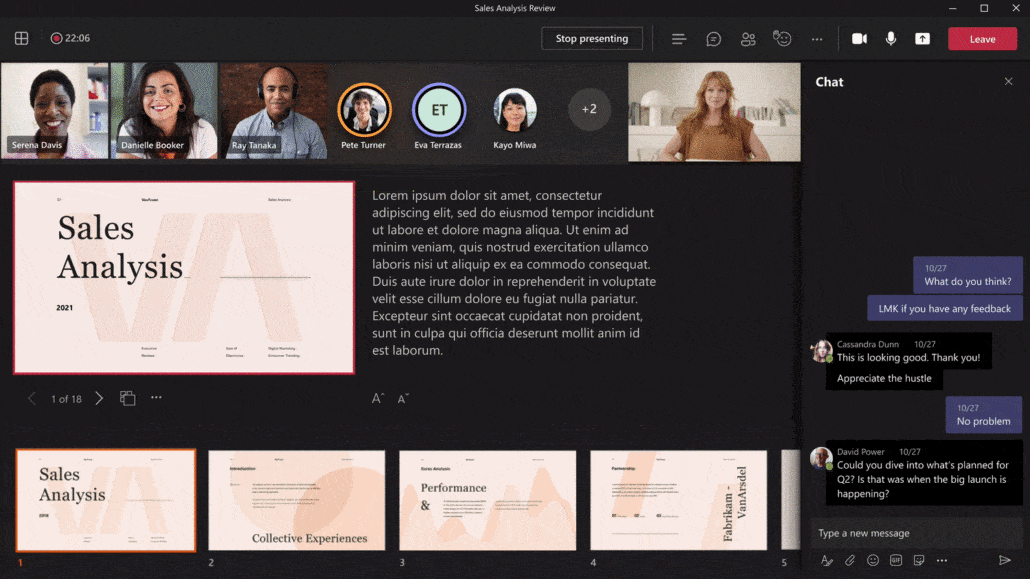 Meanwhile, attendees can personalize their experience by privately navigating the content at their own pace or using high contrast mode and screen readers to make content accessible. Coming soon, slide translation capabilities allow attendees to select their native language and automatically have slides translated for them—without changing the view for other attendees.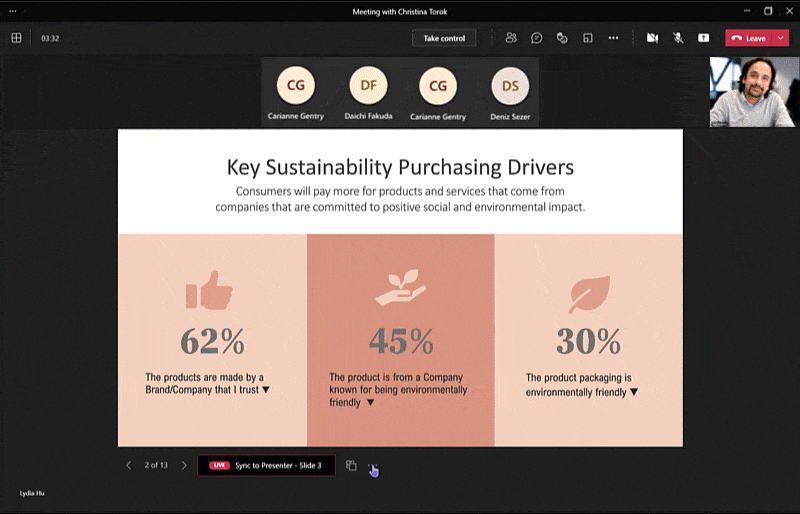 Presenter mode empowers presenters to customize how their video feed and content appear to the audience. The first of three options, Standout mode, shows the speaker's video feed as a silhouette in front of the shared content; Reporter mode shows content as a visual aid above the speaker's shoulder, similar to a news broadcast; and Side-by-side mode shows presenter's video feed alongside their content as they present. Standout mode will be available later in May, and Reporter and Side-by-side will roll out shortly after.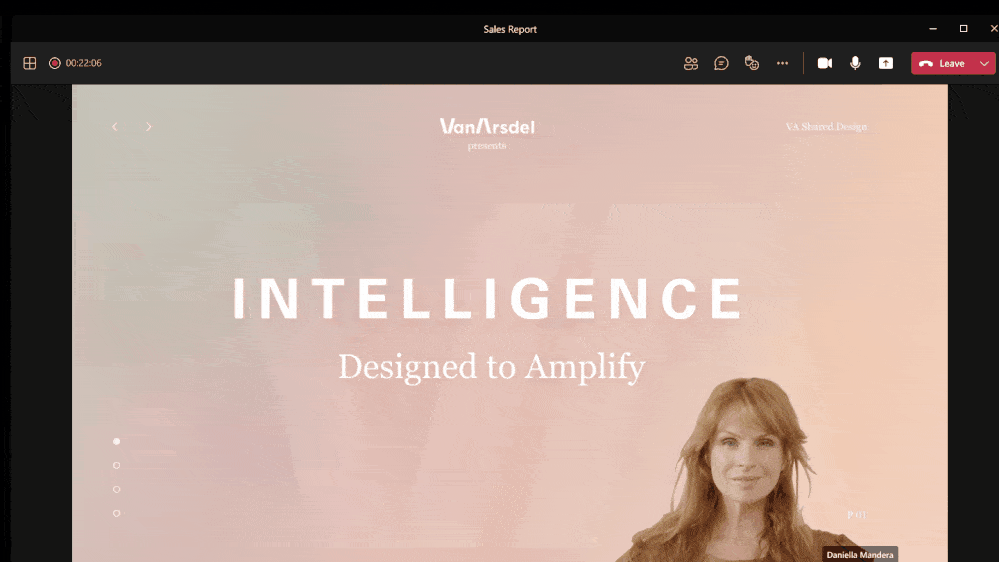 Continue to engage with attendees after your webinar 
A webinar is just one touchpoint in your customer engagement efforts. After the event ends, easily access reporting to bring attendee information into your customer relationship management (CRM) applications for lead management and follow-up.
And, beginning this month, Microsoft Dynamics 365 Marketing customers can export attendee data directly from Teams to automatically create campaigns and customer journeys for ongoing nurture streams. The Microsoft Teams and Microsoft Dynamics 365 Marketing integration gives webinar hosts more ways to drive engagement, increase conversion, and build loyalty with your attendees.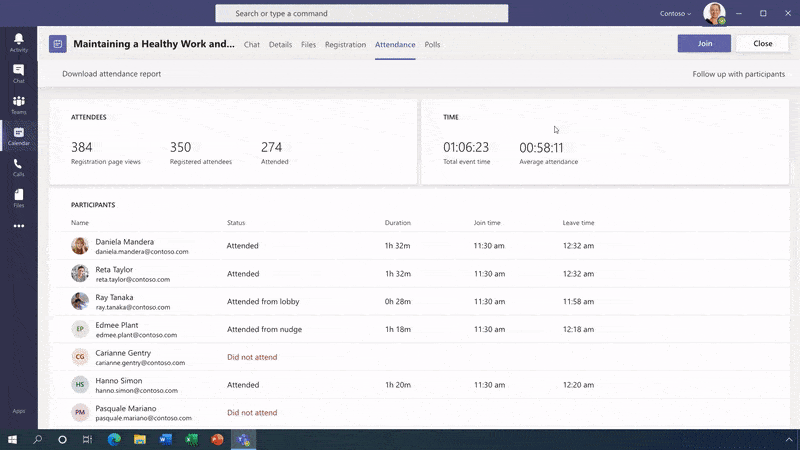 Not sure how to deliver your next webinar or event? We can help 
Customers like Junior Achievement, Coldwell Banker, and the Consumer Technology Association are using Teams for virtual events—from community building townhalls, to state-of-the-market webinars, to the world's largest tradeshow.
We know that technology is just one piece of the solution. Microsoft services like the Live Events Assistance Program help customers set up, manage, and deliver events spanning from townhalls to webinars and everything in between. Microsoft Consulting Services for Virtual Events provide strategy and delivery support for organizations that want to move their large conferences and custom events online. And Microsoft trusted partners provide solutions to envision, develop, integrate, and deliver your virtual event at any size.
Get started with Webinars in Microsoft Teams today 
Since the new webinar capabilities are already included in many of the Office and Microsoft 365 plans your organization uses today1, there's no reason to not start using them now.
Learn more about how to use these new capabilities in Microsoft Teams with this Webinars quick start guide and PowerPoint Live overview.
1These new capabilities will be available in Microsoft 365 E3/E5, Microsoft 365 A3/A5, and Microsoft 365 Government G3/G5 plans. Microsoft 365 Business Standard and Microsoft 365 Business Premium plans will include all the features above for up to 300 attendees. And for the rest of 2021, we are offering a promotional period where all Teams users can try the features with their existing subscription.
https://www.isgtech.com/wp-content/uploads/2021/06/meeting-5804167_1920.png
1280
1920
Jake B
https://www.isgtech.com/wp-content/uploads/2018/02/isg-logo.png
Jake B
2021-07-20 17:30:00
2021-06-17 14:58:20
Introducing Webinars in Microsoft Teams: Easy, professional webinars to engage customers