4 Financial Industry Cybersecurity Trends for 2018
Without a doubt, cybersecurity is and will continue to be the top concern from financial institutions big and small. In 2017, the IBM X-Force® Research 2016 Cyber Security Intelligence Index study reported that the financial services industry was the most targeted-industry for the second year in a row; experiencing the highest volume of security incidents and third-highest volume of attacks. This is not surprising considering the large amount of personal data, intellectual property and physical inventory, in addition to the massive financial assets that companies in this industry hold. To protect your company, it is important to stay on top of the top cybersecurity challenges financial institutions are currently facing.
1. STAYING UP-TO-DATE WITH COMPLIANCE REGULATIONS
To protect consumers, the financial industry continues to require aggressive policy controls and that the organization meets a vast amount of compliance standards to ensure workplace security and regulatory compliance. Unfortunately, due to the large amount of regulations, there are very frequently conflicting requirements of the rules among the different regulators and it can quickly become difficult to create a clear plan of action. It is critical for organizations in the financial industry to partner with specialists who can help create a strong roadmap for success. A roadmap that not only exceeds regulatory compliance but stays ahead of the continuously changing threats the industry faces.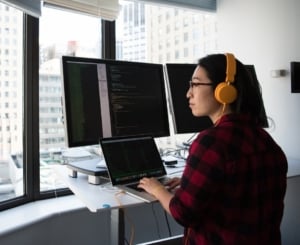 2. STAYING AHEAD OF THE EVER-CHANGING THREATS
How often do cybersecurity threats change? Constantly, and keeping up with all the changing threats can make it feel impossible to feel truly prepared when they happen. As much as hackers are evolving to stay ahead of the new tools we use to detract them, we must evolve even faster to continue to keep them at bay.
With the increasing direct and indirect costs of data breaches, disruptions of service, and disaster recovery, it is more critical than ever that financial services institutions invest in protection that uses best in class technologies that stay ahead of this ever-changing landscape.
.
3. INCREASE IN BREACH SIZE NEGATES DECREASED COST PER LOST RECORD
The 2017 Ponemon Cost of Data Breach Study found that while the global average cost for each lost or stolen record has decreased since 2016, the average size of a data breach has increased 1.8% to more than 24,000 records. As such, even though average cost for each lost or stolen record containing sensitive and confidential information has decreased to $141, the average breach will cost an institution over $3.3 million.
4. PROTECTING FINANCIAL INSTITUTIONS FROM THE INSIDE
When creating a successfully long-term data security strategy, financial institutions must look at internal policies, procedures and systems as much as they focus on systems to protect against external threats.  The IBM Cyber Security Intelligence Index report found that in 2016, over 60% of all cyber-attacks came from inside the company. From compromised corporate credentials and business emails, harder to diagnose malicious phishing emails, misconfigured clouds, and unsecure personal devices, there are a multitude of entry points for hackers to attack from the inside. Focus on protecting your company from the inside, while maintaining a mobile and agile work environment, by creating policy controls that are compliant and secure for both wired and wireless environments and fortifying your network defenses with shared contextual data and threat defense systems. At ISG Technology, we have partnered with the very best in the industry, Aruba, to provide you with the tools to create the best mobile workplace in one of the most stringent regulatory environments and most at-risk industries for a cyberattack.
FIND OUT WHAT YOUR RISK LEVEL IS AND INCREASE YOUR PROTECTION
Knowing the risks, aa financial institution, how do you protect your data from these ever-changing threats? The first step is determining how ready you are for the inevitable next attack. Schedule a free consultation with an ISG specialist to determine how our dedication to providing the best and latest security services can protect your systems no matter how the market changes.