At ISG, we're passionate about March Madness. There's just something about conference tournaments, buzzer beaters, cutting down nets, Cinderella stories and crowning basketball champions that gets us revved up. Unfortunately, our hopes of becoming champions on the court start and stop at the Pop-A-Shot machine we recently had at our 2018 company meeting. But there is good news – we have a backup plan.
Our Backup Plans are Your Backup Plan
While you may not find NBA talent at any of our 8 locations across the midwest, we do have a team of Backup, DR and Business Continuity professionals that are second to none when it comes to helping clients protect data and keep their businesses running.
March Madness is Now Backup Madness
The tournament may be crazy. But what's crazier is not having a game plan for when data disasters strike. That's why we're dedicating the entire month of March to helping as many organizations as we can develop Disaster Recovery Plans that work. We call it Backup Madness.
Backup Madness is Coming to You
Join us in one of four cities across the midwest to kick back, watch basketball, and get the scoop on how ISG can help you with your disaster recovery/business continuity needs. No formal presentations this round. Just a bunch of data/backup pros sharing what they know with you while watching the games. Click on a city near you to learn more:
March 21st is 3-2-1 Backup Day!
3-2-1 Backup Day (3/21) is the day we're asking those of you who are responsible for keeping your company up and running to spend some time ensuring you're utilizing all best practices you should be – especially the 3-2-1 backup rule:
3 copies of your data
2 different storage mediums
1 offsite
To help with this, we've assembled an all-star team of backup/DR specialists from ISG and Veeam to host a webinar that will help you understand how to tighten up you DR game plan like never before.
Webinar: Getting Your Disaster Recovery Plan in Game Shape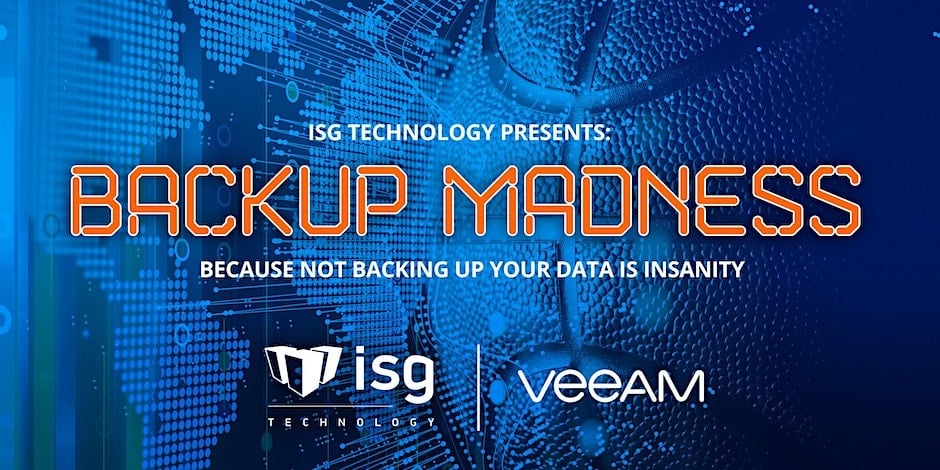 Date: March 21
Time: 11:00 a.m. – 12:00 p.m. CST
More Details